The Cottages
The Area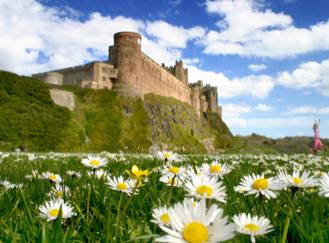 "It's a coastline ravaged by nature and steeped in history, there's a story round every single corner ...you're not just looking at a view, you're standing in the footsteps of kings, and all on one of the most dramatic coastlines nature has to offer." Janet Street Porter on ITV's Britain's Best View.
The village is dominated by the magnificent Bamburgh Castle which once sat at the heart of Anglo Saxon England. The county of Northumbria was known then as Bernicia and was the most powerful of the seven kingdoms which made up the country. In the sixth century, the ancient kings of this region made Bamburgh their capital.
The castle played its part in many battles and conflicts through the years and fell into various states of disrepair until in 1894, the great Victorian industrialist Lord William Armstrong purchased it and set about a total restoration and enhancement of the entire setting. The castle is considered one of the finest in England – but it's far from the only castle in Northumberland. Nearby examples well worth a visit include one of the locations for Harry Potter's Hoggwarts at Alnwick, The magnificent cliff-top ruins of Dunstanburgh, The picturesque castle on the Holy Island of Lindisfarne and not forgetting the well preserved medieval fortress of Warkworth.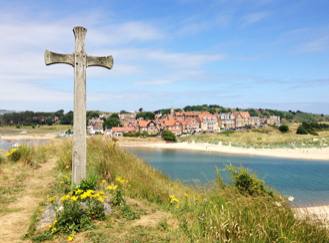 History and evidence of the past are situated around every corner of Northumberland. Pretty villages dotted up and down the coast boast their own unique heritage – The fishing villages of Seahouses, Craster and Alnmouth are all worth exploring and have their unique character.
You can not go far in Bamburgh without coming across the name of Grace Darling. Grace was the daughter of the lighthouse keeper on Longstone Island, one of the nearby Farne Islands, when one September night in 1838 she spotted The Forfashire wrecked on one of the nearby islands. With little regard for their own lives, Grace and her father helped rescue the desperate crew of the stricken vessel. Grace is buried in the graveyard at St Aiden's Church in the village and there is a museum dedicated to her and the story located on the main road out of the village.
Bamburgh provides an ideal base from which to explore this beautifully varied county. Castles, forts and interesting historic homes are littered throughout the nearby areas and slightly further afield are the gems of the Northumberland National Park and Cheviot Hills where you are more likely to come across a wild goat than another person!